TROPHY WHITETAIL HUNTS
Archery or Rifle
$3,750.00 Per Hunter
5 Day Hunt
1 Trophy Buck 5 ½ years or older
2 Does
Hogs
WE SUPPLY: Lodging, Transportation to and from Hunting area, Cleaning Area with walk in cooler, All Deer tags
YOU SUPPLY: Your Food and Drinks, Valid Texas Hunting License, All hunting equipment- Bow or gun, binoculars, calls. Guide Gratuity (15% customary)
There will be 8 trophy hunts provided at Whitsett Ranch and 8 trophy hunts at the Fannin Ranch. All hunts will be run between November 1- January 15. The deer will range between 130-165 inches.
CORPORATE GROUPS ARE AVAILABLE – ALL INCLUSIVE CALL FOR DETAILS
Goliad, TX 4,000 acre ranch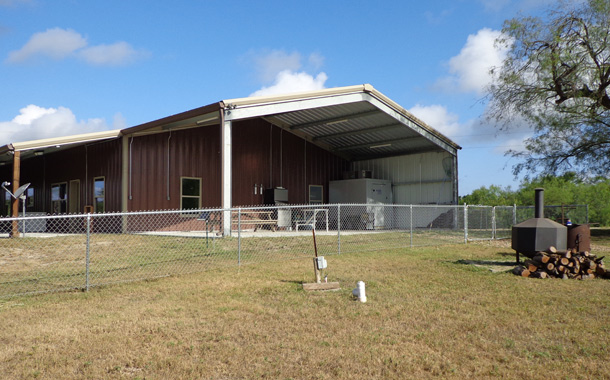 Our trophy rifle whitetail hunts are conducted on our 4,000 acre low fence, free range ranch located between Fannin and Goliad, TX. The San Antonio River runs several miles along our border giving the ranch diverse habitat from the usual cat-claw, mesquite, and weesatch trees that covers most other parts of the ranch. The river also aides in us in being able to control and manage our deer herd even better being along a third of our ranch border. The ranch has been under strict management for the last five years and our quality of trophy bucks shows! Our quality of bucks are second to none compared to other low fence ranches.
These hunts are fully guided being that a guide will be accompanying you on your hunt at all times. Only mature bucks will be harvested. Our trophy buck average is 145 to 165 B&C. While most of our hunting is done out of tower blinds, you and your guide may use rattling and still hunting methods during your hunt as well.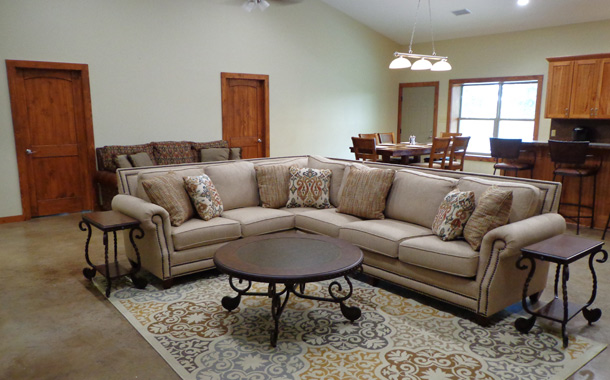 Our lodging consists of a first class 2000 square foot lodge situated atop a hill overlooking the San Antonio River bottom secluded from the rest of the world. The lodge sleeps 10 hunters within its's walls.  You will find all the amenities of your own home such as a full kitchen, Directv, WiFi, washer/dryer, 500# ice machine, and a large walk in cooler for saving trophies and meat.
Relax indoors, or out under our large covered porches while you enjoy grilling over an open flame, or while enjoying a beverage watching the wildlife around camp.